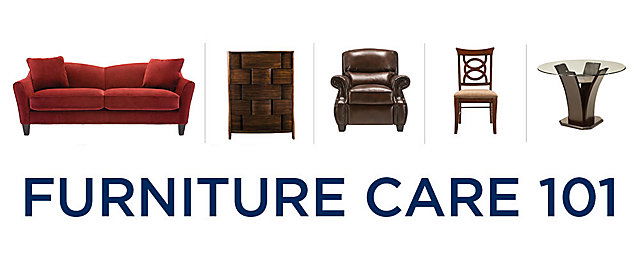 Dust frequently: Use a fine cloth to attract and hold dust. Clean up spills immediately: Use a blotting action rather than a wiping action. Avoid placing furniture in direct sunlight: Sunlight causes fading. Avoid extremes in room humidity: Too high or too low humidity can cause wood to warp or the glue lines to fail. Avoid extreme changes in temperature: Arrange furniture away from radiators, registers, and air-conditioning units.

Use pads, cloth or felt to protect the furniture surface from plastic, rubber, hot dishes, beverages, bookends, flowerpots and vases. Use a protective pad when writing with a ballpoint pen. Lift and place objects: Do not drag them across the furniture surface.

Avoid wax polishes: Regular use of wax polishes may result in the build-up of wax film on the surface of the furniture. This build-up may then pick up dirt, smoke and other pollutants in the air, which may result in smudges and streaks. Used long enough, this may cause the finish to soften, requiring expensive refinishing work. Wax build-up over time hardens, making it difficult to remove from the furniture's finish. Avoid silicone polishes: Silicone oil is an ingredient used by many furniture polish makers to create a high degree of shine. Silicone seeps into even the most lacquered finishes, making it difficult to remove.

Should it become necessary to refinish a piece of furniture, silicone makes it a very difficult process, even for a professional re-finisher. Most furniture manufacturers recommend using polishes that do not contain silicone.
Blot up spills immediately: Use coasters under beverages and wet items. Use a cleaner and polish formulated for marble surfaces. Avoid scouring powders and kitchen cleansers which are abrasive and will scratch marble.

Do not clean natural stone products with vinegar, ammonia, or kitchen cleansers! Marble must be cleaned with neutral pH cleaners. Remove stains with only approved marble stain removers. Refer deep scratches to a professional only.

Waxing white marble could cause yellowing. Acidic juices can etch marble surfaces leaving dull spots. Marble surfaces can be harmed and stained by acids, even dilute acids.

Common foods and beverages such as citrus juices, alcohol, vinegar, and other common items are acidic and can etch the surface of marble. Clean spills immediately!

Consult a professional or the manufacturer before using waxes and sealants to maintain marble furniture.
BI-CAST LEATHER / VYNIL COVER CARE
Clean your Vinyl or Bi-cast furniture weekly with a damp soft cloth to remove dirt, food spills, body oils and dust. Please make sure only water, industry recommended products are used to clean your Vinyl or Bi-cast leather items, so as not to risk damage to the upholstery. Make sure spills are cleaned straight away to avoid damage.

Be sure to keep your Vinyl and Bi-cast leather furniture out of direct heat and sunlight to avoid fading and damage to the upholstery. Be careful of dye transfer, avoid sitting on your Vinyl or Bi-cast leather with new unwashed jeans, damp clothes etc.

Be mindful of sharp objects, pet claws, studs, buttons on jeans or car keys, as these can easily scratch, tear and mark the upholstery.
Avoid using or placing sharp objects on leather goods: Leather is very durable, but not accident or damage proof. Place your furniture a minimum of two feet from radiators and other heat sources. Protect your leather furniture from direct and even indirect sunlight. Some leathers, such as full and semi-aniline, will fade over time.

Avoid air pollution such as cigar or cigarette smoke and cooking fumes, which can cause leather to fade or change color. Keep leather free from dust by dusting with a cloth, preferably once a week. Clean leather with good leather cleaner, preferably once a month if the furniture is used daily. Minimally, this needs to be done four times a year. Don't rub! Sponge gently until all grime and stains are absorbed. Blot spills up immediately.

Please Note: Many common household cleaning products can cause severe damage and costly repairs, and improper cleaning may void your furniture warranty. Always pretest all of the care products in a hidden area to make sure that they are compatible with the leather.

For oil-based spills and stains such as popcorn grease, salad dressing or other non-water-soluble spills, wipe the leather clean with a clean, dry cloth. Allow for the remainder of the stain to dissipate into the leather over a 24-hour period.

Do not use Leather Cleaner, Leather Protector / Conditioner, water or soap on oil-based stains. Never use saddle soaps, oils, all-purpose cleaners or solvents. Use of these products could damage the finish. Modern tanning techniques do not require such products. Most spills will absorb up easily with a dry cloth or paper towel.
Periodically, lightly brush or vacuum the upholstery to remove soil particles and dust and prevent them from embedding between fibers. Turn and rotate cushions, if possible, after vacuuming to prevent excessive wear and soil deposits.

Avoid placing newspapers on fabric, the ink will permanently stain and discolor the material. Keep fabrics away from direct sunlight. Do not cover fabrics with darker fabrics when having work done in the home, since dyes may rub off.

Liquid spills should be absorbed immediately. Blot with white absorbent cloth or paper towel. Spills such as jelly or soft spills should be scooped up with a soft edge spoon. If the spill has dried up, scoop it gently and vacuum the rest.

Never throw your fabric in the washer or dryer unless the fabric says it is machine washable. To spot clean, always test an area of the fabric that is not seen first, such as under a chair / sofa skirt. Let it dry, and then proceed if the results are positive. Do not over-saturate an area with any cleaning solutions. Do not rub strongly and try not to let a stain dry.

The exact method for cleaning upholstery depends on the fabric code. View below, the Fabric Codes for a definition of the code and the best method of cleaning.
CODE W
The "W" code refers to fabrics that are man-made. Examples include nylon, herculon, acetate, olefin and polyester. These types of fabrics can be cleaned with water-based cleaners. Spot clean, using the foam from a water-based cleaning agent such as mild detergent or non-solvent upholstery shampoo product. Apply foam with a soft brush in a circular motion. Vacuum when dry. Pre-test a small area before proceeding. If the upholstery is badly soiled, use a professional furniture cleaning service.
CODE S
The "S" code refers to fabrics made of organic fibers like cotton, rayon and linen, as well as fabrics manufactured from animal origin like wool or silk. Additional Code "S" fabrics include denim, velour, brocade, tapestry, damask, acrylic and plaid (cotton / olefin blend). These fabrics should be cleaned with a solvent or dry-cleaning product. Spot clean using a mild water-free solvent or dry-cleaning product. Pre-test in a small area before proceeding. Be sure not to over- saturate and allow the area to dry completely and use a clean, white cloth. Blot out the solution. If the stain persists, rub lightly in a circular motion using a clean part of the cloth. Reverse the circular motion using a clean part of the cloth each time. You also may use the cool setting of a dryer or fan the area dry once the stain is removed. For cleaning a cushion, clean the entire surface.

CODE S-W
Fabrics with the "S-W" code may be spot cleaned with a mild solvent and/or water-based cleaner such as shampoo or the foam from a mild soap or detergent solution. Techniques mentioned for "W" or "S" coded fabrics should be followed with these fabrics.

CODE X
Fabrics with the code "X" should only be cleaned by vacuuming or light brushing or professional dry cleaning. Water- or solvent-based cleaning agents should not be used, as they may cause excessive shrinking, staining or distortion of the surface pile.