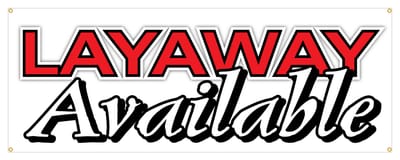 Start your AFBC Layaway Plan Today! - Submit a Layaway Order Online!
(1)
Simply request all furniture / appliance items you want to put on layaway, via our
Contact
form or Chat button. State LAYAWAY in comments / instructions for AFBC.
(2)
Pay
Deposit Online
or schedule appointment to start layaway in-person.
(3)
An AFBC Layaway Plan hard copy will be mailed to you, within 24 hours.
AFBC LAYAWAY PLAN FEATURES
| | |
| --- | --- |
| $20 minimum deposit | Low down payment |
| No layaway service fees | Minimum deposit is deducted from total purchase |
| Make weekly, bi-weekly or monthly payments | Any amounts |
| Merchandise COST is frozen until paid in full | No price increase if it changes |
| Take up to 6 months to pay remaining balance | Layaway all items needed |
AFBC LAYAWAY PLAN - TERMS / EXCLUSIONS
*
The AFBC Layaway Plan requires a minimum $20 deposit or more, with 6 months left to pay remaining balance.
*
Weekly, Bi-Weekly or Monthly payments (any amounts) are required.
*
AFBC must be notified two weeks prior to paying remaining balance, in order to secure or Special-Order merchandise, if not available in stock.
*
Most Special Orders take two weeks or less, to arrive to El Paso, Texas.
*
Layaway Plan payments include
Credit / Debit Cards
, Cash, Personal Checks (sorry no temporary checks accepted), and Money Orders.
*
Cash payments must be done in person. NEVER MAIL CASH.
*
Payments received via US Postal Service, AFBC will mail back a payment receipt, showing new balance on the following weekday.
*
Layaway Plans are only available to residents of El Paso, Texas and our surrounding service areas.
*
Layaway items cannot be combined with any Current Offers, discounts, Clearance Merchandise, coupon offers or any other discount.
*
Person initiating layaway plan, must be the same person finalizing the layaway.
*
A Picture ID will be required for merchandise pick up.
*
No partial takeaways permitted.
LAYAWAY PRICE ADJUSTMENT / LAYAWAY CANCELLATION FEE
Because prices are subject to change without notice, price adjustments on layaway merchandise, whether if they increase or decrease, cannot be facilitated / modified. Layaway Plans cannot be modified to a different merchandise, unless merchandise becomes discontinued or back-order for a long period of time.
If merchandise on layaway becomes discontinued or back-order, the amount deposited will be credited towards the purchase of new merchandise, unless customer cancels. A layaway cancellation fee, for any reason, is $20. If a layaway refund is requested, refund will be provided in the form of an AFBC check or Money Order, as per customer convenience.
Layaway will be terminated, if no payments are received within 30 days after last payment. Upon customer notification, if no payment is received within 15 days, after customer notification, layaway agreement will be cancelled, and the $20 cancellation fee will be applied, and the refund process will begin.
All information / communication with AFBC, whether online or offline, is kept strictly confidential.